BOOK SALE
Held at First Presbyterian Church, 120 N. Front Street
Subject to COVID restrictions: September 2021 Masks Required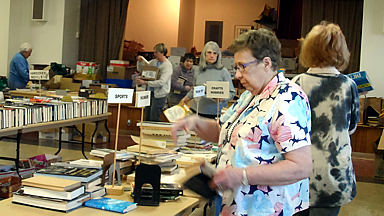 Thursday, September 23, 2021            6 pm – 9 pm
Friday, September 24, 2021                10 am – 7 pm
Saturday, September 25, 2021           10 am – 5 pm
Clean-Up
Monday, September 27, 2021           10 am
Proceeds from the Book Sale support our mission of advancing gender equity for women and girls.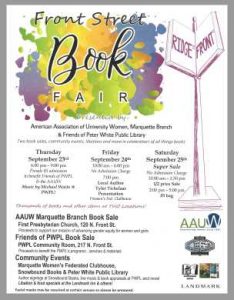 Volunteers Needed and Greatly Appreciated!!!
Contact Renee Leow at (906) 250-5503 for Details
Book Sorting                    Monday-Thursday, Sept. 20-23, 9am – 4pm
Book Sale Work Bee      Monday, September 20, 6pm
Sale Volunteers              Thursday-Saturday, Sept. 23-25 (sale times above)
Clean-Up                          Monday, Sept. 27, 10am
Chair/Committee : Renee Leow
---
ECONO RECEIPT COLLECTION
Contact:  Meredith Kulisheck
(NOTE: Econo receipts never expire.)
Bring Econo receipts to any in-person meeting or event.
---
YESTERDAY'S TREASURES & BAKE SALE
(Clubhouse Fundraiser)
Saturday, December 4, 2021
Contact:  Meg Goodrich
---
NMU SCHOLARSHIP FUND CAMPAIGN
Contact Person: Les Bek